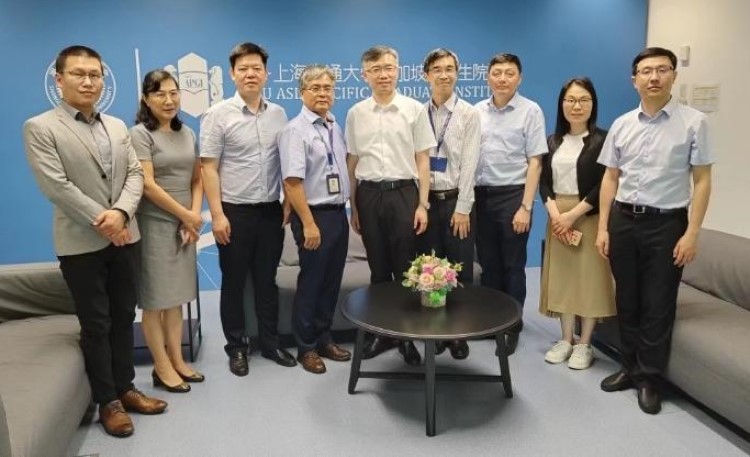 Luo Dajin, Director of the Science and Technology Commission of Shanghai Municipality (STCSM) led a delegation to Singapore for a research visit on 26 April 2023. Cao Hongming, Director of the Biotechnology and Medicine Division, Yu Qing, Director of the Comprehensive Development Division, He Shangyan, Director of the International Cooperation Division, Jia Lei, Deputy Director of the Social Development Science and Technology Division, and Yang Wenzhan of the International Cooperation Division were part of the delegation. Peng Yinghong, dean of SJTU-APGI and Tong Yen Wah, director of the Energy and Environmental Sustainability Solutions for Megacities Programme (E2S2) for NUS, together with Meng Jia, vice dean of SJTU-APGI, and Xi Junfang, director of the Antai Asia-Pacific Center, received the delegation.
The visit kicked off with Peng giving a presentation on SJTU-APGI, with emphasis on the E2S2 research collaboration project in Singapore, as well as the role and characteristics of the Campus for Research Excellence and Technological Enterprise (CREATE) in the project. Under the introduction of Tong and the researchers, the delegation also visited the laboratory and facilities of the E2S2 project.
Director Luo and members of the delegation expressed their affirmation of the high standard of scientific research cooperation in Singapore for over ten years, and hope that the institute continues its contribution to talent cultivation and exploration and expansion of joint research projects.