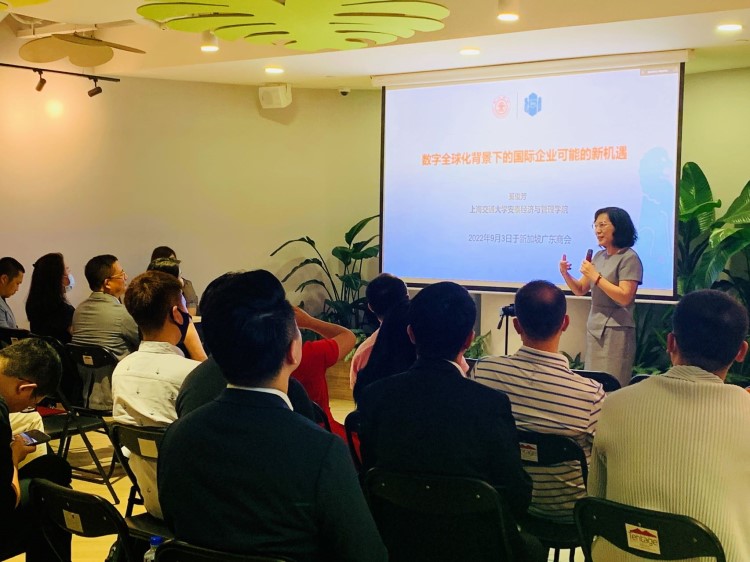 The seminar on "Digital Globalisation: New Opportunities for International Enterprises", organised by Guangdong Enterprise Association (Singapore), was held on 3 September 2022. A/Prof. Xi Junfang, the representative for Antai College of Economics & Management (ACEM), Shanghai Jiao Tong University for the Asia-Pacific region, delivered a keynote speech on behalf of SJTU Asia-Pacific Graduate Institute (SJTU-APGI). Representatives from Singrass International, China Southern Airlines, Midea Holding, Zhujiang Shipping, Guangken Rubber, Huanshi Logistics, Yonyou Singapore and other enterprises in Singapore attended the seminar.
Xi focused on globalisation and the new digital trends of enterprise development. She also discussed with the attendees, ways to strengthen global competency and digital mindset, which are essential for retaining the competitiveness of enterprises conducting international businesses. Xi pointed out that while global trade in goods is relatively stagnant, trade in services showed growth, especially for digitally-deliverable services, showing that the slowdown of globalisation does not mean deglobalisation. Despite the challenges of the business environment, digitalisation promotes interaction and cooperation, in turn sparking new developments in globalisation. She went on to present the case studies of two innovative global companies in China – SHEIN and UMU as well as the traditional company Coca-Cola, emphasising the importance and urgency of integrating digitalisation into the development of the intermediate goods and services industry.
The lecture was well received, with attendees engaging in discussions and exchanges of information regarding the development trends in the industry. Mr Robert Li, president of Guangdong Enterprise Association (Singapore) and CEO of O2WORK Pte Ltd, said that in following their mission of "Creating a platform, building channels and attracting resources", Guangdong Enterprise Association (Singapore) organises special lectures, business events and visits regularly for member enterprises. These activities build a business ecosystem of mutual assistance and cooperation within and outside the association. Xi then introduced Antai College of Economics & Management's industrial research institute which was set up in 2018. With the strategy of "interlacing and integrating knowledge and action", it endeavours to return to and strengthen its niche areas of scientific research, teaching and business practice. Li also added that Guangdong Enterprise Association (Singapore) will carry out various forms of cooperation with SJTU-APGI and ACEM.
Enrolment Requirements:
Before admission in September 2023,
- More than 2 years of working experience after graduate school;
- More than 3 years of working experience after university graduation; or
- More than 5 years of working experience after junior college graduation.
For more information, please contact:
Shanghai Jiao Tong University Asean MBA Project Team
Phone /WhatsApp: +65 6908 8115
Email: asean.mba@sjtu.edu.cn
Website: http://asean-mba.sjtu-apgi.edu.sg