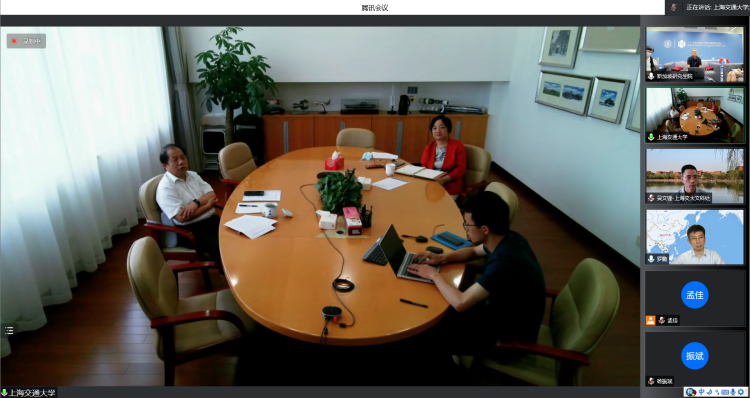 Secretary of the SJTU Party Committee, Yang Zhenbin, President of SJTU, Lin Zhongqin, Vice President of SJTU and Director of the SJTU-APGI Steering Committee, Xu Xuemin, as well as members of the Steering Committee met virtually on August 1 for the fifth meeting of SJTU-APGI's Steering Committee.
Peng Yinghong, Dean of SJTU-APGI, presented the periodic progress report of SJTU-APGI and announced the personnel changes in the institute. Vice Dean Yin Haitao then talked about the challenges faced by Antai Asia-Pacific Center, and subsequently provided a detailed analysis and proposed improvement plan. It was followed by Vice Dean Meng Jia's report on the activities and framework of the Southeast Asia Center, as well as Shanghai Advanced Institute of Finance Dean, Cheng Shijun's report on the college's findings and plans of running education programs in Singapore and internationally.
Other topics that were being fervently discussed at the meeting included the medium of instruction for the programs in Singapore, the recruitment policy of overseas institutions, as well as the next steps after SJTU-APGI's expansion to Malaysia.
With SJTU's guidance and strong support, SJTU-APGI has made steady progress for the past three years, despite the challenges of the complex international political landscape and COVID-19 pandemic. The leaders expressed their affirmation for the strong development of SJTU-APGI under the leadership of Dean Peng Yinghong, and set their expectations for the institute to establish and enhance its exchanges with other overseas branches of Chinese universities. They also showed support and encouragement for SJTU-APGI to build on its experience and achievements to reach greater heights in Singapore.