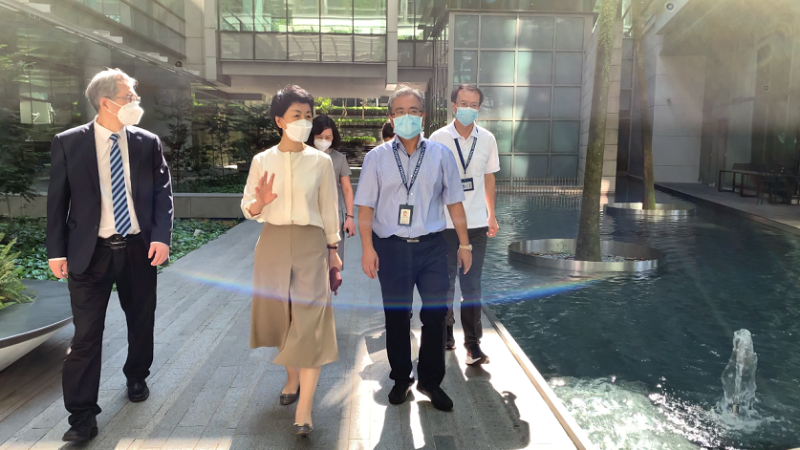 Her Excellency Sun Haiyan, Ambassador Extraordinary and Plenipotentiary of the People's Republic of China to the Republic of Singapore, visited SJTU Asia-Pacific Graduate Institute (SJTU-APGI) on 17 August 2022. She was accompanied by Education Counsellor for the Embassy of the People's Republic of China in Singapore, Mr. Kang Kai, and Secretary, Mr. Zhai Yinglin.
Amongst those present are Executive Director for the Campus for Research Excellence and Technological Enterprise (CREATE) Dr. Lim Khiang Wee, Dean of SJTU-APGI Prof. Peng Yinghong, Vice Dean Ms. Meng Jia, Director of Antai Asia-Pacific Center Dr Xi Junfang, Program Director for the Energy and Environmental Sustainability Solutions for Megacities (E2S2) project Prof. Tong Yen Wah, and Shanghai Jiao Tong University Prof. He Yiliang.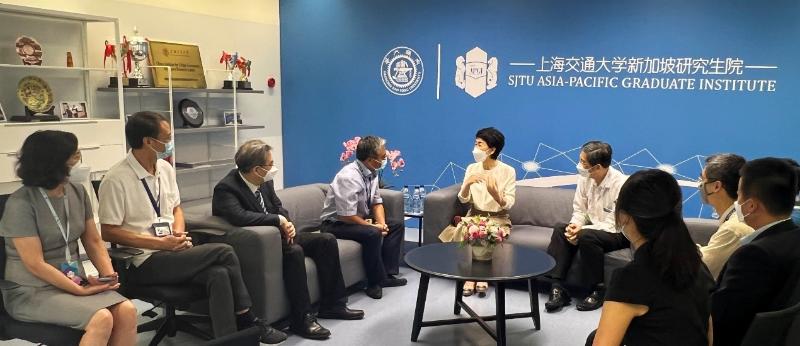 The visit kicked off with Ambassador Sun engaging in a friendly conversation with Dr. Lim to learn about the CREATE program. She added that the Singapore government has provided an excellent infrastructure and platform for large-scale international scientific research cooperation, and looks forward to providing support for collaborative research projects between Singapore institutions and Chinese universities.
Prof. Peng then presented to the ambassador an overview of SJTU-APGI's background and developments in education, research, and collaborations. After close to 30 years of providing postgraduate education and 10 years of research collaboration in Singapore, Shanghai Jiao Tong University established SJTU-APGI in 2019, making history as the first and only Chinese university with an independent institution in Singapore.
Under the guidance and support of SJTU, SJTU-APGI has made steady progress for the past three years, despite the challenges of the complex international political landscape and COVID-19 pandemic. Apart from expanding collaborations with universities and developing relations with the government and enterprises in Singapore, SJTU-APGI has also started to extend its reach to other parts of Southeast Asia. Its research efforts, too, saw breakthroughs in key technologies such as recycling of kitchen waste and suppression of cyanobacterial blooms, with successful technology transfer and application in both Singapore and Shanghai.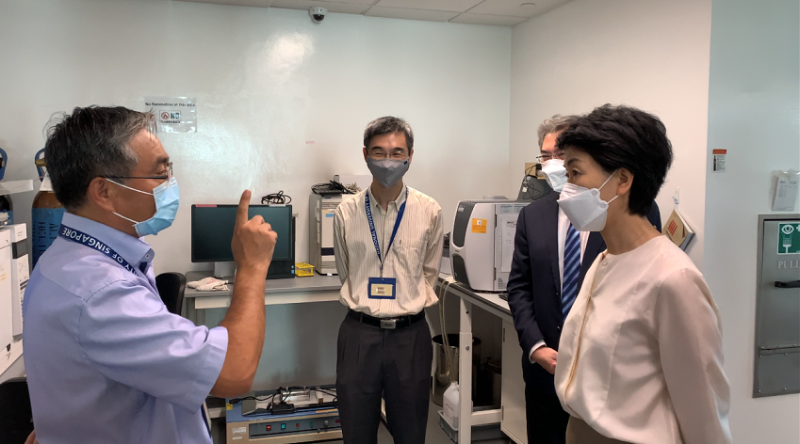 Ambassador Sun then attended a site visit led by Prof. He and Prof. Tong, which included a tour of the E2S2 labs and a meeting with the PhD students and researchers.
Concluding the visit, Ambassador Sun affirmed SJTU-APGI's achievements thus far, and expressed her high expectations for the institute to build on its strengths and nurture more outstanding talents, as well as provide a platform to encourage other Chinese universities to participate in establishing more effective and successful collaborations.