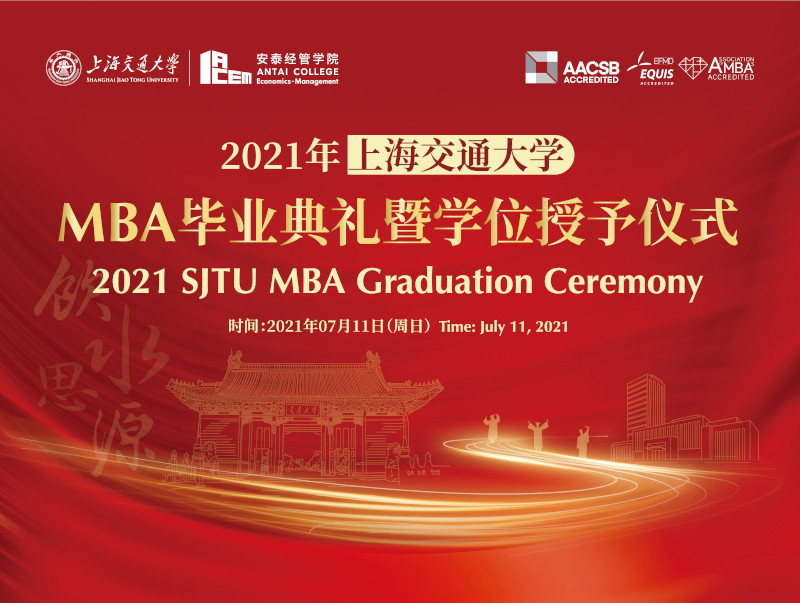 On 11 July 2021, the 2021 Shanghai Jiao Tong University (SJTU) MBA Graduation Ceremony was held concurrently at the SJTU Xuhui campus and in Singapore at RELC International Hotel, which saw a total of more than 700 students graduating. Vice President Prof. Mao Junfa, Prof. Wang Yaguang, Dean of Graduate College, and Prof. Chen Fangruo, Dean and Guangqi Chair Professor of Antai College of Economics and Management, and other school leaders gave their opening speeches before the conferring of degrees to graduates in China.
In Singapore, Prof. Peng Yinghong, Dean of SJTU Asia-Pacific Graduate Institute awarded the degree certificates to the 26 present MBA graduates and gave a closing speech for the ceremony.
In addition, two representatives from the graduates – Ms. Ming Min and Mr. Wei Qiang, shared their learning experiences while pursuing their MBA degrees with the school.
The MBA graduate students also presented gifts to the professors who have taught them previously, and to SJTU represented by Prof. Peng. The graduation ceremony ended with the song "真心英雄" which reminds us cherish our time, strengthen our resilience, and persevere to achieve our dreams.