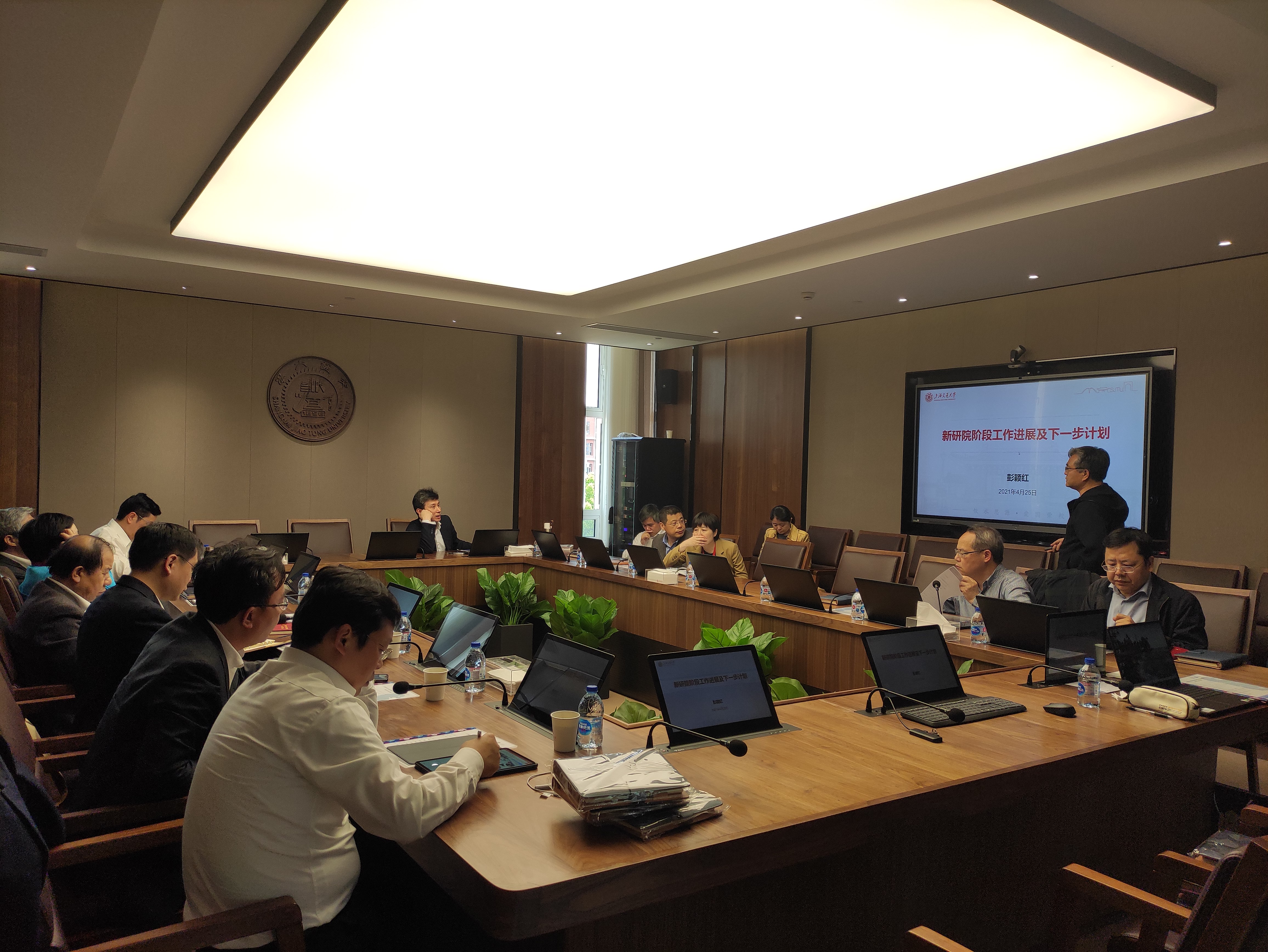 At the fourth steering committee meeting of SJTU Asia-Pacific Graduate Institute (SJTU-APGI) held on the 25th of April, Dean of the institute, Peng Yinghong, presented its work progress report. It was followed by Vice Dean Liu Shaoxuan's report of Antai Center's work plan; as well as the upcoming development plans as presented by Prof. Chang Chun, Executive Dean of the Shanghai Advanced Institute of Finance (SAIF).
Despite facing market competition and challenges posed by the ongoing pandemic, the institute had managed to ensure steady operations of its student recruitment and teaching efforts, as well as kickstarted its Executive Education program in January 2021. Its research efforts also saw achievements - on the basis of the Energy and Environmental Sustainability Solutions for Megacities (E2S2) Program, it has been approved for the Shanghai 2020 "Science and Technology Innovation Action Plan – International Science and Technology Cooperation Program" and launched the International Joint Laboratory under the "Belt and Road Initiative". It is currently actively preparing and applying for the new "Circular Solutions for Energy and Resources" Program. In terms of collaborations, the institute focused on creating new joint projects and content, building corporate relations, maintaining friendly relationships with its partners, and expanding its network with local universities, governmental and corporate organisations. The institute had also successfully completed its audit for its first fiscal year; implemented the customized policy for local staff in the SJTU HR system; established monthly work meetings; and released five official management documents. Antai Asia Pacific Center had proposed a new model for its student recruitment and training at the meeting. SAIF had also proposed the idea of running non-degree executive programs, the Global Executive Scholars Program (GES), as well as collaborative research programs in Singapore.
Personnel changes were also announced at the meeting– Zhao Zhen and Jiang Wenning were appointed members of the steering committee in July 2020 and April 2021 respectively in place of the outgoing members Liang Qi and Yang Jie who had taken up new appointments. Dong Ming has ceased his position as Vice Dean of SJTU-APGI due to personal reasons, with the Vice Dean for Antai College of Economics and Management, Liu Shaoxuan, concurrently assuming the role.
SJTU President Lin and the steering committee had launched a discussion on the development and improvement of the institute's education programs, policy reforms, funding and partnerships. Vice-President Xu affirmed the efforts and progress achieved by the team in the close to two years since the establishment of SJTU-APGI; as well as showed approval for Antai Center and SAIF's plans on exploring education programs in Singapore. She had stated that SJTU-APGI should subsequently focus on refining its admissions and education programs; and also reinforced the need for preparatory work for future fundraising and grant management.
President Lin then expressed, after a comparative analysis of similar educational programs in Singapore, that SJTU-APGI should improve relevant policies to enhance its competitiveness, by promptly addressing the deficiencies while maintaining the existing advantages. In addition to business programs, Antai College and SAIF could also explore joint research opportunities which tap on the commercial and financial advantages of the Southeast Asia region. SJTU-APGI could start cultivating well-known research institutes in the future, creating a positive and active research and academic culture.