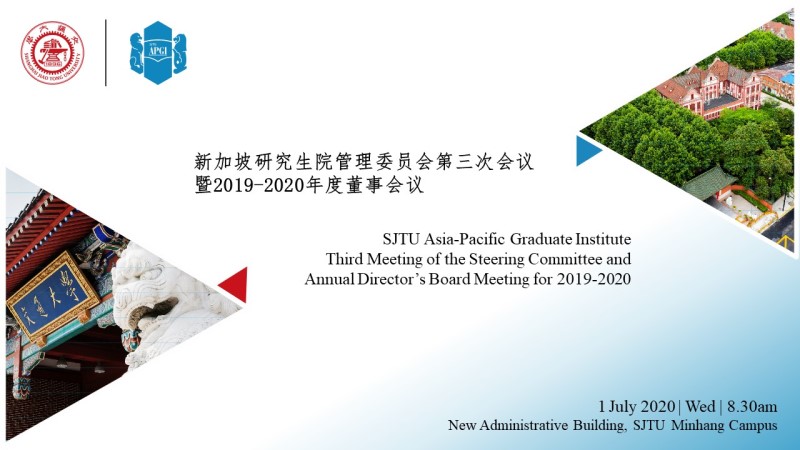 The third meeting of the SJTU Asia-Pacific Graduate Institute (SJTU-APGI) Steering Committee and Annual Director's Board Meeting (2019-2020) with was held on Wednesday, 1 July 2020, 8.30am in the New Administrative Building at SJTU Minhang Campus.
At the meeting, the Steering Committee was presented with the work summary reports for the first half of the year and upcoming plans of the SJTU-APGI, Antai Asia-Pacific Center, and Southeast Asia Center. Possible challenges and upcoming development plans of the institute were also discussed.
The committee members explored ways to build on the institute's human resource system so as to attract, hire and retain professionals more effectively. The possibility of offering additional education options and their implementation was also discussed. Additionally, the members looked into the feasibility and work plan of a proposed Pacific Rim Issues Studies Center during the meeting.
The committee had also reiterated the institute's goal to be a recognised education brand in the Southeast Asian region, by upholding the school's image, and developing and providing quality content for its programs. SJTU has also reinforced that it would actively support SJTU-APGI's growth and development as well as its essential financial requirements.
Chairperson of SJTU University Council, Yang Zhenbin and President of SJTU, Lin Zhongqin were present at the meeting, chaired by Vice President of SJTU and Director of the SJTU-APGI's Steering Committee, Xu Xuemin.