On 31st May 2022 Shanghai Jiao Tong University Asia-Pacific Graduate Institute (SJTU -APGI) visited Nanyang Technological University of Singapore (NTU). The visit was a monumental one as it signals a new phase of collaboration between the two institutes since COVID struck in 2019.
Already collaborating on many fronts, both NTU and SJTU has seen growth and memorable exchanges between their students for years. This time, APGI's mission is to further break new grounds and find new modes of collaboration with NTU.
APGI Vice Dean Meng Jia and her colleague Zhou Jindao visited Deputy Director Wang Hang of Nanyang Center for Public Administration. The group had a long and fruitful discussion on current educational landscape and trends of China and SEA. Both parties also laid down groundwork for further collaborations such as joint learning programs.
APGI then met Deputy Director Desmond Woo and his team members: Senior Assistant Manager Lucy Zhou, as well as Senior Executive Soh Ting of NTU's Career Attachment Office. The two parties then had a cordial and meaningful discussion, with plans to resume student internship exchanges. The two offices also discussed the potential for future collaborations in other areas as well.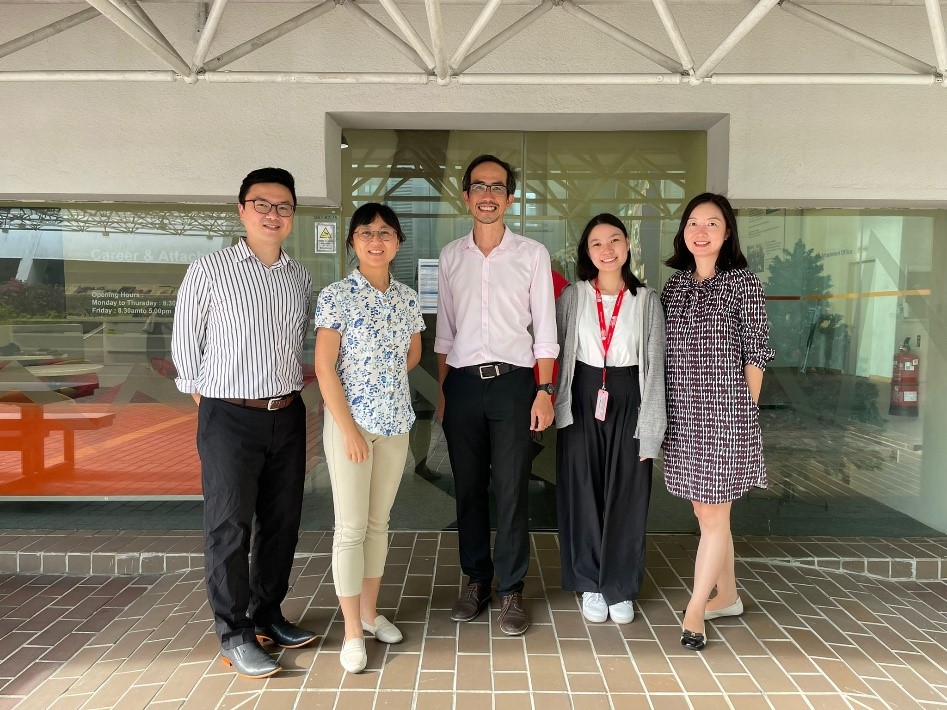 From left to right, APGI Assistant Director Zhou Jindao, APGI Vice Dean and Director Meng Jia, NTU Career and Attachment office Deputy Director Desmond Woo,
Senior Executive Soh Ting, Senior Assistant Manager Lucy Zhou

Throughout the past 2 years and 5 months, the way educational programs are run have taken various changes as well. For example, international student exchanges and research collaborations have taken a step deeper into the virtual world, allowing students to work more closely together despite geographical boundaries.
Nonetheless, both NTU and APGI are looking forward to resume face to face programs that would allow students to travel between Singapore and Shanghai. As both SJTU and NTU own advanced laboratories for technological and engineering development, physical exchange programs would bring about great benefits to the students of both schools.
APGI will be visiting NTU again soon to facilitate the processing of their inaugural exchange program with students from University of Michigan – Shanghai Jiao Tong University Joint Institute