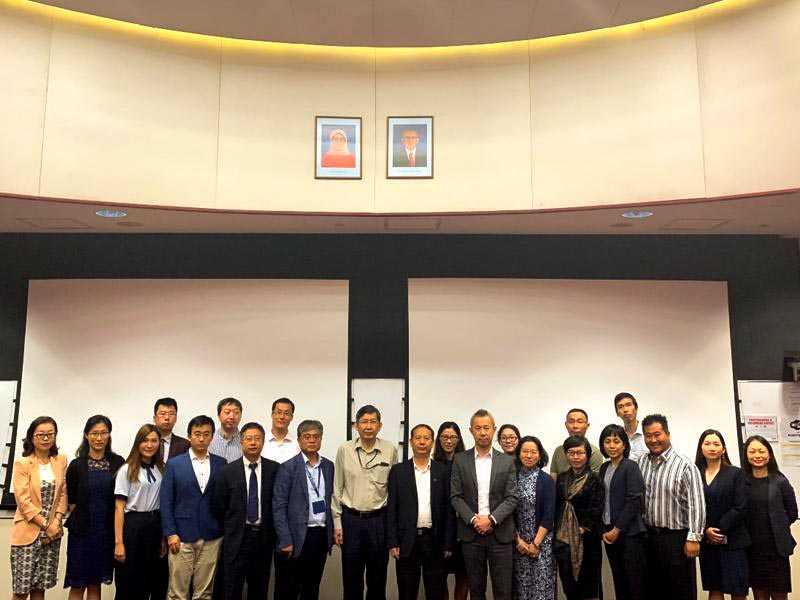 Prof. Mao Junfa, SJTU vice president, led a team of delegates to Singapore on 20-23 October 2019. The program for the duration of the visit included visits to the Campus for Research Excellence and Technological Enterprise (CREATE), National University of Singapore (NUS), Nanyang Technological University (NTU) and Singapore Management University (SMU). Prof. Mao also attended the third instalment of the CREATE workshop, as well as interactions and discussions for collaborations between institutes.
On 21 October, Prof. Chen Tsuhan, Deputy President (Research and Technology) of NUS, and Prof. Andrew Lim, Head of the Department of Industrial Systems Engineering & Management at NUS Faculty of Engineering, represented NUS in welcoming Prof. Mao and the team of delegates from SJTU to the CREATE program workshop. Together with SJTU-APGI's Dean Prof. Peng Yinghong; Executive Deputy Dean of SJTU Artificial Intelligence Institute, Prof. Yang Xiaokang; and Vice President of Shanghai Ninth People's Hospital, SJTU School of Medicine, Prof. Wang Yan, delegates form SJTU-APGI, Shanghai First People's Hospital and Shanghai Mental Health Center, SJTU School of Medicine attended the event as well. Prof. Chen Tsuhan expressed his appreciation and recognition for the work done in the first and second phases of the CREATE Program, and his hopes for success and stronger cooperation in the upcoming third phase of the project.
That afternoon, a reception was held, with Dr. Lim Khiang Wee, Executive Director of CREATE, heading the event, during which he showed support for the collaboration for the third phase of the CREATE Program titled "AI+ Ageing". Following that was a discussion session with all parties from different fields of expertise sharing and voicing their opinions, in turn providing valuable input towards the planning and realization of the upcoming project. Prof. Mao also mentioned that this will be a meaningful project combining the two fields of Medicine and AI Technology, which could provide solutions to issues brought about by an ageing population, an increasingly common problem around the world, especially in Singapore and Shanghai.
22 October started with a visit to NTU's Centre for Disruptive Photonic Technologies (CDPT) at the School of Physical and Mathematical Sciences (SPMS). The SJTU delegation was warmly received by NTU's Associate Vice President for Infrastructure & Programmes, Prof. Tim White and Dean of Graduate College, Prof. K. Jimmy Hsia. The program for that day continued with various meetings and discussions with distinguished leaders from three local universities – NTU, SMU and NUS, to explore probable opportunities and details for future collaboration, be it research projects or education programs.
The day ended with a meeting with Mr. Kang Kai, Education Counsellor of the Embassy of the People's Republic of China in Singapore, in which Mr. Kang gave his approval and support to SJTU for its active participation in various projects in Singapore, as well as its involvement in collaborative efforts with local institutes.